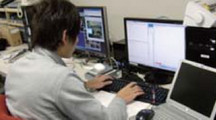 Changes in the earth's environment such as climate changes and abnormal weather work in concert with ecological environmental systems and earth systems that are made up of the atmosphere, the oceans, the soils, plants, the hydrosphere, the ecosphere, and the activities of humans and other animals. We conduct research on the basic structures, change processes, symbiotic relationships, and interactions that make up these systems, such as the evolution of the earth, climate and terroir, conservation of the global environment, the physiological ecology and ecological harmonization of flora and fauna, and human activities, all with reference to observation, measurement, experimentation, investigation, remote sensing, and numerical analysis. We provide education and research to train people who can use the new scientific knowledge gained from this research and the thinking and practical skills learned through research to contribute to the creation of the next-generation culture and construct a sustainable society.
Laboratories

The primary aim of our education and research is to analyze and understand, at both the global and the regional scales, the mechanism and the dynamics of the changes in the global climate and ecosystem, as well as the mutual interrelationships among them. GIS, field observation and satellite data are intensively utilized. The fingerprints of these changes are observed through such phenomena as extreme weathers (El Niño, storms), drought, air and water pollution related eco-climatic problems (global warming, ozone depletion, acid rains), and changes in the land covers (tropical rainforests destruction, desertification). We especially emphasize on the role and influence of the human as part of the global ecosystem. This makes it possible to obtain a deep understanding of his actions, and to devise and implement ways and means for sustainable solution to the problems.

Weather and climate have substantial influence on our society and economy. This is why various types of weather forecasts are provided, ranging from several-hour forecast to seasonal prediction. Those forecasts, however, have not yet been fully utilized by society. Every day, a lot of meteorological data including observation and numerical simulation output are produced for the sake of providing weather forecasts. By analyzing those data, we are aimed at improving weather prediction skill through deeper understanding of meteorological phenomena, and also at finding a way to make weather forecast more useful for society.

According to the increase of greenhouse gas in the atmosphere such as carbon dioxide, it is suspected that global warming would be proceed and abnormal weather would be frequently occurred. Abnormal ocean conditions such as decease of the Arctic sea ice or the temperature rise in the deep seas, would be occurred in the global ocean, too. In our ocean climate laboratory, concerned researches on the global ocean climate variability and global ocean circulation change are carried out through the global analysis of sea level change and water temperature. For the researches, in-situ oceanographic observation and analysis are also carried out by our training ship "Seisui-Maru" of Mie University. Further numerical model experiment on the ocean circulation, and re-analysis of the archived oceanographic data in the JODC are also tried. Let's start to study the global ocean climate change with us for the sustainable ocean and earth.

Ocean covers the approximately 70% of Earth's surface and plays a vital role in changing weather and climate by providing a huge amount of heat and water vapor. It is also important source of food supply for an ongoing population explosion. Based on physical oceanography and dynamic meteorology, this laboratory covers studies on roles of ocean in Earth's climate and ecosystems, with synergy of remote-sensing techniques, numerical simulations, in-situ observations.

Science and their community should substantially change their disciplines and attitude to cope with environmental issues under Global climate change. We need sincere reflection on past scientific collaboration, then encourage trans-disciplinary approaches to address multi-dimensional changes in humanosphere in coming decades. This laboratory covers sustainability and resilience concepts from local to global environmental issues based on multiple earth science knowledge, such as climatology, geomorphology, plant ecology, glaciology, etc., with combining detailed field works and upscaling techniques using remote sensing and GIS. We also aim for social inclusion to extend our scientific knowledge to the community.

Research subjects of this laboratory are (a) the past and (b) the future of the earth. (a) Knowledge of the past earth environment is needed to be understanding nature of material and energy circulation in our planet. For understanding of the past earth, we investigate marine and land sediment and sedimentary rocks by the several methods: geology, environmental geology, sedimentology, geochemistry, and geochronology. Especially, we develop and apply original processing and instrument of non-destructive scanning technology called "TATSCAN". (b) For predicting and planning of our future of the earth, it is necessary to investigated sustainable development not only for natural environment but also for human society. We investigate future model of self-sustainable social system especially based on renewable energy such as, solar, wind, water, and biomass.
Water often presents a threat to humankind, but is often regarded as a resource. From the former viewpoint, we study and educate students about natural disaster science, especially the science of water-related disasters. From the latter viewpoint, we study and educate students about water resources and water environment engineering. For each hydrological process, we specifically examine precipitation and flooding, especially statistic and stochastic analyses of precipitation and flood. Research areas we treat are hydraulic engineering, river engineering, hydrology, meteorology, and seismology.

Our laboratory aims to create the society where people could have the feel of freedom, safety and welfare. We evaluate different aspects of the world. For example, riding a motorcycle has both aspects of pleasure and danger. Improving the regional environment sometimes leads to deterioration of the global environment. We study the sustainable regional managing method based on the evaluations. We utilize landscape characters because they reflect the underlying geology, soils, topography, land cover, hydrology, historic and cultural development and climatic considerations. We want to provide a more harmonious link between man and the natural world with them.
Happenings