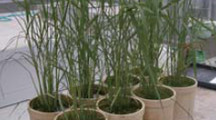 Our course is intended to reveal the biological phenomena of plants, animals, and microorganisms at levels of molecules, cells, individuals, and populations. And further, we aim to contribute to improve the productivity of crops and livestock by in a sustainable way and to decrease losses during processes from cultivation to manufacturing. Students gain advanced knowledge and technologies of Agrobiology including plant genetics and breeding, crop science, physiology of horticultural crops, animal and feed production science, phytopathology, insect ecology and etc.
Laboratories

'Breeding' is based on the genetic modification of organisms for the purpose of selecting improved offspring. This laboratory conducts molecular genetic and genomic studies useful for plant breeding, particularly on the mechanisms of plant reproduction (i.e., pollination/fertilization, self-incompatibility, floral organ formation, etc.). We aim to elucidate molecular functions of genes important for plant breeding by using gene transfer and resultant transgenic plants.

Our life depends on bioresources from agriculture, forestry and fisheries for a long time. Especially food crops and industrial crops are very important for quality life. We continue the researches on their growth habits, flowering and fruiting characteristics, yield, quality and utilization. We also try to develop sustainable and stable high yield culture systems and to modify cultural varieties. The target crops are rice plant, soybean, sweet potato and Iseimo (Chinese yam) etc.. Our laboratory contribute to promote crop production in Mie area.

To improve the quality and cultivation method in fruit trees and vegetables, investigations are in progress from cultural and physiological standpoints. In pomology field, studies on fruit growth and ripening are conducted in evergreen fruits, while stress physiology is analyzing in olericulture field by using tomato, cucumber and so on. Feedback of experimental results is also given to practical cultivation.

Livestock animals such as cattle, pig, and chicken provide meat, milk, and egg which are good protein source for human being. We focus on improving productivity of the livestock animals and reducing impact on environments by controlling endocrine action and gastro-intestinal microorganisms of the animals. Improving productivity will reduce amount of feed consumed and impact on environments.

We have been studying the nutrient characteristics of feedstuffs including forages produced in temperate and tropical countries, and food-industrial by-products for ruminants.

Accurate diagnosis of plant diseases, identification of causal organisms, and better understanding of epidemiology are essential for better control of plant diseases. The aim of education in this laboratory is to bring up prospective plant doctors who can make accurate diagnosis of plant diseases and guide farmers for control of the diseases. Research aims of laboratory staffs are taxonomy, diversity, phylogeny and evolution of plant pathogenic fungi using morphological and molecular methods.

We aim for pest managements in a way with low impact to the environment. Our interest also goes to conservation of insect communities, use of ecosystem services by insects in agriculture. Our current research themes are; 1) pollination biology of insects in agricultural ecosystems, 2) host range evolution of herbivorous invasive insects, 3) life history evolution of herbivores and their parasitoid wasps, 4) inter-specific relationship of two closely related Bactrocera fruit flies.
Happenings