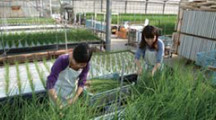 International Regional Resource Science Course aims at producing leaders capable of finding solutions to challenges faced by rural communities where the majority of populations are engaged in the primary industry such as agriculture, forestry and fishery. Today, issues in rural communities are becoming increasingly complicated due to the rapid change in social structure and ongoing surge of globalization. Understanding and tackling these issues requires an integrated knowledge of natural and social sciences with an international perspective. Therefore, the course implements multidisciplinary education at the interface between natural (crop and livestock) and social (agricultural economics and business administration) sciences. Students enrolled will be provided with the latest information (domestic and international) of each discipline and more importantly several opportunities to integrate knowledge gained from the disciplines.nants to establish sustainable grassland use and livestock production system.
Laboratories

In these days of changing agricultural, food and trade environments and policies, agricultural producers are facing necessity of strengthen their competitiveness by reducing production costs, producing highly value-added and differentiated agricultural products, and corresponding to new agricultural technologies. Our research and education mainly focus on finding the way of supporting such producers by elucidating consumer demand for agricultural and food products and evaluating impacts of policies and programs using the analytical frameworks of economics, econometrics (or statistics) and the marketing research, and by drawing evidence-based policy recommendations.

Our main methodology is farm business management and rural sociology based on field research. We have strong interest on family farming because Japanese agriculture is still on the process to reform from small family farming to large scale business farming. We are looking for the rural social system that harmonize business and self-sufficient farming, accumulation of field by farming company and protection of small part-time farming, efficient production and environment friendly farming; the goal is expand rural economy to overcome low income level in rural aria. Our study keywords are family farming, farm business development, sustainability of rural economy and many types of farmers, and alternative system to market oriented economy.

The ocean provides various ecological goods and services required by humanity to survive and live comfortably. It not only supplies seafood, but maintains an appropriate environment. For the sustained and efficient use of fishery resources, we are investigating the state of their management, organization and regulations at each stage of production, distribution, and consumption. Our purpose in conducting research and education is to construct sustainable seafood production and distribution systems.

The global plant resource science is a field of science that studies plant species grown as resources somewhere in the world from various points of view. Plants for food including animal feed, industrial material and energy source are within the target. The focus of our laboratory is to develop the cultivation technique, particularly the ones to increase production under various environmental conditions and to improve quality of end product.

Recent over-exploitation in agriculture causes grassland use and livestock production system problem in the world. Our research topics are understanding plant-animal-soil relationships on grazing ecosystems, and feed, nutrition, healthy and behavioral science of ruminants to establish sustainable grassland use and livestock production system.
Happenings