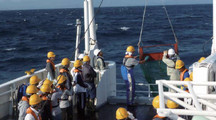 Along with providing explanations for the marine biological functions on a chemical level, we also aim to effectively utilize marine bioresources such as seafood, algae, marine microorganisms, etc., and to integrate biological information through analysis and isolation of their components. In addition, we use these as materials to create functional food resources, cosmetics, etc. through biochemical and genetic engineering techniques. In our course, we provide research and education on biochemistry, molecular biology, and the analytical techniques. Furthermore, we carry out research and education so that students can learn and master abilities to handle these techniques into practice.
Laboratories

In the special environment of the sea, marine organisms involve novel constituents and engage in their interesting biological phenomena. Especially attention to marine macroalgae and mollusks, we survey the algal/mollusk compounds which contribute to the maintenance of human health by investigating their functional effectiveness and intracellular dynamics. In addition, we intend to elucidate the molecular mechanisms for morphological/developmental characteristics, response/adaptation to fluctuating environmental conditions, and phenotypic expression of industrially useful varieties in marine macroalgae and mollusks using their genomic information. Our purposes on education and research result in obtaining the wide knowledge and experimental technique to students, and in contributing to highly effective utilization, sustainable and stable production, and conservation of biodiversity of marine bioresources.

Our laboratory is mainly focusing on fish and algae that we analyze their available products and those who are developed by unused bioresources in the aquatic field. Moreover, we study on the theory and technologies not only with genetic bioengineering for breed improvements in fish, but also with synthetic biology on bacterial biosynthesis. Furthermore, by analyzing the interaction and relationship of molecular levels between chemical compounds and their biological effects, we aim to elucidate and educate synthetic biology and biotechnologies for mechanisms of molecular interactions from a cell level to a whole-body level.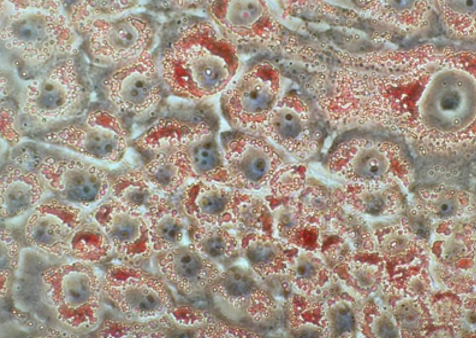 A variety of organisms have been inhabiting the hydrosphere. Our laboratory investigates functional ingredients in aquatic organisms that contribute to beauty (whitening, photo-aging, etc.) and the prevention and/or improvement of lifestyle related diseases (cancer, osteoporosis, allergy, etc.), and elucidate its mechanism based on scientific evidence. In addition, in order to expedite the development of functional cosmetics and foods, we have been engaging in the development of new evaluation system for screening of functional ingredients by using noncoding RNA and exosome secreted from cells. In this way, our laboratory educates you from the view point of cell biology, experimental animal science, and nutrition for the purpose of material development that contributed to the improvement of "Quality of Life".

Aquatic organisms are adapted to an extremely wide range of environments.Physicochemical properties of the biomolecules that work in the tissues and organs of aquatic organisms are significantly different from those of terrestrial animals and plants. We are mainly targeting the muscles of aquatic animals, and are studying to clarify their molecular mechanism of muscle contraction from the viewpoint of comparative physiology and comparative biochemistry. The results obtained are useful not only for accumulating biological knowledge, but also for maintaining the quality of seafood and developing processing technology. In this research field, we will conduct education and research on food science based on the characteristics of aquatic organisms.

Figures and functions of aquatic organisms extremely differs from those of land-dwelling creatures. Aquatic organisms have acclimated themselves to the aquatic environment and their genes have produced various proteins that give abilities to live in the aquatic environment. Our laboratory is studying on functions of muscle proteins of aquatic creatures such as sharks that have urea in muscle and bivalves of which muscle can maintain the tension for a long period without energy consumption.

Microorganisms such as bacteria, true fungi, and unicellular algae, are one of useful marine resources. We have so far searched and isolated unique and useful microorganisms in marine environments. We have investigated biochemical, physiological, and ecological properties of these microorganisms to produce chemicals and bioenergy. In addition, it is imperative to control harmful microorganisms such as food-poisoning bacteria in food-manufacturing factories. We have also investigated the optimization of cleaning and disinfecting operations of food-processing equipment from interfacial aspects.

Our laboratory aims to improve understanding of marine product constituents such as enzymes, blood components, glycoproteins and oligosaccharides that have effects on its quality and hygiene. Our specific interests are reactions of these components that occur in marine products during storage and processing, and how they could be controlled for quality improvement. Recent research topics are as follows: (1) Comparative pharmacology of fish drugs in cultured fish. (2) Study on glycoproteins of fish red blood cell membranes. (3) Exploring novel biocatalysts from marine bioresources for high value-added chemicals production and developing their application for marine products.

In the laboratory of marine food chemistry, it is engaged in the following research topics:
1. Study on search for novel physiological active substances from marine resources.
2. Studies on production of rare sugars from seaweed polysaccharides and evaluation of their physiological functions.
3. Studies on structural analysis and physiological functions of seaweed polyphenols (phlorotannins).
4. Study on development of method for quantitative analysis of marine physiological active substance using mass spectrometer (e.g., LC-MS,GC-MS)
5. Study on biorefinery using marine resources.
Happenings